Botox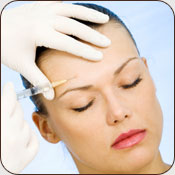 BOTOX Cosmetic is an efficient, non-surgical, cosmetic solution that rids undesirable facial wrinkles and lines that have accumulated over time from stress, hereditary factors, and the natural aging process. The BOTOX Cosmetic solution is derived from Botulinum Toxin and has been approved by the U.S. Food and Drug Administration for addressing unwanted facial lines and eye-muscle disorders.
Read about BOTOX Cosmetic vs. Dysport
Read about BOTOX Cosmetic vs. Dermal Fillers
Benefits of BOTOX Cosmetic
BOTOX Cosmetic can shed years of stress and worry lines from your face. Common areas of treatment include:
Along the forehead
Between the eyes
Crow's feet wrinkles at corners of the eyes
Often BOTOX Cosmetic is used in conjunction with other facial surgery procedures, such as a neck lift to address loose or sagging skin around the neck, or eyelid surgery to lift drooping eyelids. The extent of cosmetic enhancements depends on the patient's aesthetic goals.
Candidates for BOTOX
Many people choose BOTOX Cosmetic as a viable, non-surgical alternative to enhance their facial aesthetics. So long as you're not pregnant, as the effect on the fetus is unknown, are in good mental and physical health, and have a desire to eliminate wrinkles and other facial lines, you're a candidate for BOTOX Cosmetic.
BOTOX Procedure
During an initial consultation, Dr. Daria Hamrah discusses treatment options and determines which facial muscles could most benefit from injection. The entire process is quick and easy, rarely taking more than an hour.
Recovery from BOTOX
Unlike cosmetic surgery procedures, recovering from BOTOX is a rapid process. While it's not recommended that you lie down for several hours after the procedure nor participate in strenuous activities for 24 hours, the majority of normal activities can be resumed immediately.
Results from BOTOX Cosmetic are visible for between three to six months following the procedure.
Possible Side Effects of BOTOX
Although the procedure has proven to be safe, there are possible side effects patients must be aware of before proceeding with treatment. These include:
An allergic reaction to BOTOX Cosmetic
Temporary headache
Minor nausea
Numbness or a tingling sensation in the injection area
Minor swelling or bruising around the injection
The majority of these side effects can be avoided if a patient avoids rubbing the injection area for 12 hours after treatment and a trusted, certified surgeon with extensive BOTOX Cosmetic experience, such as Dr. Hamrah, is selected for the procedure.
For more information, see Medical uses of BOTOX.
To learn more, read our BOTOX Cosmetic Questions Page.
If you live in the Washington D.C., or Northern Virginia areas and are considering BOTOX Cosmetic, please contact Northern Virginia Cosmetic Surgeon Dr. Hamrah today to schedule your personal consultation.