HydraFacial MD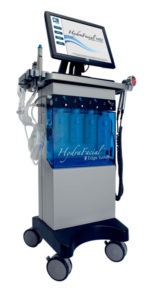 The HydraFacial™ treatment is the most advanced non-invasive, procedure that delivers instant results for improved tone and texture with no downtime. It is the only resurfacing treatment that combines cleansing, exfoliation, extraction, hydration and antioxidant protection simultaneously, resulting in clearer and more beautiful skin. The following results are achieved without any irritation or downtime:
The exfoliation and resurfacing of microdermabrasion;
The skin renewal of a chemical peel; and
The hydration and extractions of a deep-cleansing facial.
The HydraFacial™ treatment improves the appearance of fine lines, wrinkles, congested and enlarged pores, oily or acne-prone skin, hyperpigmentation and brown spots
Am I a candidate for the HydraFacial™ treatment?
Since each treatment is customized to address your specific concerns and skin type, it is appropriate for all any types of skin including sensitive, ethnic or acne prone skin.
What results can I expect? How many treatments are needed to see results?
Many people report seeing visible skin refinement and an even, radiant skin tone after just one treatment. Our Master Esthetician will evaluate your skin and customize which serums are needed and frequency of LED to best achieve your most healthy and beautiful skin.
A single treatment is perfect for those who need a fresh and glowing appearance for a special event or occasion. For those wanting to maintain healthy skin and a vibrant look then monthly treatments would be recommended.
How Does It Work?
The HydraFacial™ uses a unique five-step approach.
Vortex-Cleaning™—The patented HydroPeel® tip hydrates the skin with a nutrient-rich solution that deeply cleanses the pores and softens and lifts away impurities.
HydroPeel® Exfoliation—The HydroPeel® tip uses its multiple abrasive edges to exfoliate the skin several times with each pass to achieve better, more even skin resurfacing without irritation.
Vortex-Peel- A customized blend of glycolic and salicylic acids further help exfoliate and prep the skin for the essential serums.
Painless Vortex-Extraction™—The vortex (powerful circulation of liquid) effect easily dislodges and removes blackheads, whiteheads, and sebum for quick and painless extractions.
Vortex-Fusion™ of Antioxidants—The unique spiral tip employs a patented method for infusing hydrating skin solutions and potent antioxidants into the skin, improving the appearance of fine lines, wrinkles, oily skin, and hyperpigmentation.
LED Light Therapy—Light therapy provides additional benefits after the HydraFacial™ treatment. LED light therapy uses specific types of light, which give off energy that stimulates your cells, thereby increasing your skin's production of collagen and elastin. In turn, your skin becomes firmer, less wrinkled and younger looking. The treatment's red LED light helps improve the appearance of skin firmness and resilience, while reducing the appearance of fine lines and wrinkles, hyperpigmentation and other signs of aging. The blue LED light is extremely beneficial for people who suffer from oily skin or breakouts. And the combination of red and blue LED lights is helpful in reducing the appearance of rosacea.