Corrective Jaw Surgery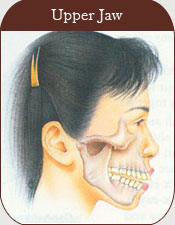 Corrective jaw surgery, or orthognathic surgery, is necessary when jaws do not meet correctly, resulting in either an overbite or underbite. An improperly aligned bite can occur if the upper and lower jaws grow at different rates or due to an injury to the jaw. Either way, the problem should be addressed promptly as an array of other oral health issues can arise by delaying treatment.
Symptoms of a Misaligned Jaw
While a greatly protruding overbite or underbite is easily discernible, a misaligned jaw is much more subtle.Jaw growth occurs gradually and in some cases, the upper and lower jaws grow at different rates, affecting chewing, speaking and your long-term oral health and appearance. Orthognathic surgery may be indicated when jaw repositioning is necessary. You should seek an evaluation if you suffer from any of the following symptoms:
Speech problems
Chewing, swallowing, and/or biting is painful or difficult
Unrelenting jaw pain, which could be the result of Temporomandibular Joint Disorder (TMD)
Difficulty breathing (snoring)
These symptoms can begin at birth due to hereditary influences or can arise following facial trauma.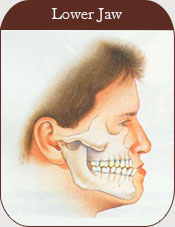 Treatment Options
The first step in repositioning a misaligned jaw is a thorough examination through x-rays, photos and models of your jaws and teeth. This pre-treatment phase will determine if you are a candidate for corrective jaw surgery, and the details of your treatment plan will be discussed. This type of procedure typically has to be coordinated together with an orthodontist who will then align your teeth with braces. Any questions you might have will be addressed as well.Dr. Daria Hamrah uses state-of-the-art technology to show how your surgery will be approached. Through facial x-rays and computer video imaging, Dr. Hamrah can visually display the improvements in your bite and allow you to understand precisely what the surgical process will be like.Once surgery is completed, your teeth and jaws will have been moved into a new, more attractive position that will provide you with better jaw functionality.
Recovery Process
The pain in recovering from corrective jaw surgery is comparable to having your wisdom teeth extracted. You should expect:
Pain, swelling, and bruising. Apply ice packs and take your medication as prescribed
Numbness around your jaw bone for several weeks to months.
Elastics fitted to your jaw to keep your new bite in place as your bones heal
Consuming a blended, liquid diet for two weeks before moving into softer foods like pasta and eggs for the next four to six weeks
Being absent from work for a week
Engaging in zero physical activity for three weeks
If you live in the Washington, D.C. or Northern Virginia areas and believe you are a candidate for corrective jaw surgery, please contact Dr. Hamrah today to schedule your personal consultation.