Questions About Dental Implants
What Is a Dental Implant?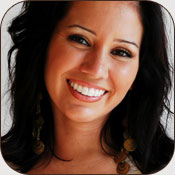 A dental implant begins with a titanium screw that is surgically placed into your jaw. This provides a stable foundation and support for your implant, which is an artificial crown that is later attached to the anchor. Although surgically intensive and can take upwards of six to seven months, dental implants remain one of the most popular reconstructive dentistry procedures due to their comfort, natural aesthetics, and durability.
Am I a Candidate For Dental Implants?
If you have a missing, severely fractured or drastically decayed tooth, you might be a good candidate for a dental implant. Additionally, you must have:
Healthy gums
A fully developed jaw
Adequate jawbone structure

 
Dr. Daria Hamrah only performs dental implants on those patients referred to him by their dentist. Only a consultation with your dentist can determine if you are in satisfactory oral health for a dental implant.
What Are The Benefits Of Dental Implants?
A dental implant is a durable and natural looking solution to missing or fractured teeth. Unlike dental bridges, which can make you self-conscious and impair your ability to eat and speak properly, dental implants feel natural and won't embarrass you during everyday activities like smiling, kissing, and eating.
Additionally, your diet can remain the same, as dental implants are remarkably strong.
How Do I Care For My Dental Implants?
While dental implants can last up to thirty years, you must provide regular maintenance to ensure its longevity. This means:
Maintaining peerless oral hygiene between surgeries to prevent your gums from swelling and ruining the procedure
Regular brushing with a soft-bristled toothbrush and non-abrasive toothpaste
Daily flossing
Visiting your dentist for a cleaning every three to four months

 
What is involved with the dental implant procedure?
The dental implant procedure can take about eight months. First, implants are placed within your jawbone. For the first three to six months following surgery, the implants are beneath the surface of the gums gradually bonding with the jawbone. You should be able to wear temporary dentures and eat a soft diet during this time. You new teeth are being made during this time.
After the implant has bonded to the jawbone, the second phase begins. Dr. Hamrah will uncover the implants and attach small posts, which will act as anchors for the artificial teeth. These posts protrude through the gums. When the artificial teeth are placed, these posts will not be seen.
In select cases the crown resembling a tooth can be placed on top of the implant the same day. Dr. Hamrah can offer this procedure in select cases for front teeth where the patient can walk out of the office with a "new tooth" on the same day of implant placement. Please ask for "tooth in one day."
If you live in the Washington, D.C. or northern Virginia areas and believe you are a candidate for, or would like to learn more about, dental implants, please contact Dr. Hamrah today to schedule your personal consultation. We will thoroughly evaluate you and discuss options.