Perlane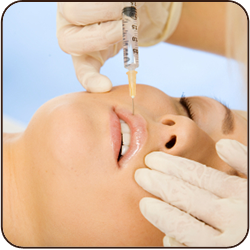 Perlane is one of several hyaluronic acid-based soft tissue fillers on the U.S. market. It is approved to treat moderate to mild creases around the mouth, but is used off label for plumping eyebrows, smoothing under-eye hollows, enhancing the lips, defining the cupid's bow (the curve of the upper lip), enhancing volume and defining contours of the cheeks, chin and jawline. Some doctors also use Perlane to soften the appearance of scars and other depressed facial marks.
Like other hyaluronic acid-based fillers, Perlane helps replenish your body's depleting supply of hyaluronic acid, which is found in the connective tissues of your body. Advancing age and the sun's harmful ultraviolet radiation cause our natural supply of hyaluronic acid to diminish, and this can manifest in an aging face.
Perlane is manufactured by Medicis Aesthetics. This is the same company that makes Restylane , another hyaluronic acid-based soft tissue filler. Perlane is slightly thicker than Restylane . Put another way: The size of Perlane particles is larger, which means it packs more hyaluronic acid, and as a result may be a better bet for filling deeper lines. Perlane 's results last about six to 12 months.
Perlane Injections: What to Expect
There are no animal products used in Perlane , so an allergy test is not necessary. Perlane injections are performed in our office as an outpatient basis. The procedure typically takes about 30 minutes, but this may vary based on the extent of your treatment. We typically apply a topical numbing cream before injecting Perlane .
There is usually minimal downtime with Perlane , meaning you can go back to your normal activities almost immediately after your treatment. That said, you may experience some redness, swelling or bruising around the injection site, but these tend to subside within a few days. There is also the risk of dissatisfaction with the cosmetic results. The best way to minimize these risks and maximize your outcome is to choose a facial cosmetic surgeon like Dr. Hamrah with a lot of experience with Perlane .
If you live in the Washington, D.C. Maryland, or Northern Virginia region, Perlane may be your non-surgical solution to accomplish your cosmetic goals. Please contact Dr. Hamrah today to schedule your personal consultation.