Eyelid Surgery Questions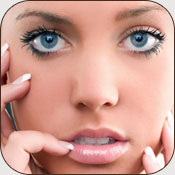 What is Blepharoplasty?
Blepharoplasty is facial cosmetic surgery on the eyelids. It can be performed on both the upper and lower eyelids in order to provide a healthier, more alert looking face by tightening muscles, removing and/or repositioning fat tissue deposits, and balancing facial feature aesthetics.
Who is an Ideal Candidate for Blepharoplasty?
Any physically and mentally healthy adult can have eyelid surgery. It's important to maintain realistic goals and expectations throughout the process, as eyelid surgery will not completely revamp your facial appearance.
There are certain conditions that will prevent a patient from having eyelid surgery performed. These include:
Those suffering from glaucoma, dry eye, a detached retina or other serious eye conditions
Thyroid disorders
High blood pressure, diabetes, cardiovascular disease or other circulatory disorders
What Can Blepharoplasty Correct?
Eyelid surgery can correct numerous, unwanted eyelid aesthetics, including:
Lifting droopy eyelids
Eliminating bags from under the eyes
Removing wrinkles from the lower eyelid
Extracting fat tissue deposits that cause eyelid puffiness
Tightening loose or sagging skin that can impair vision or form unnatural contours
What is involved with the procedure of blepharoplasty?
The first step in having eyelid surgery is a consultation with Dr. Daria Hamrah. During this meeting, you will discuss:
Anesthesia options
Your goals and expectations to ensure that eyelid surgery is the correct facial surgery procedure to meet your aesthetic aspirations
Prior to the procedure, it's important to have transportation arranged to and from the surgery as bruising, swelling, and anesthesia will impair your ability to operate a vehicle.
Dr. Hamrah takes great care in selecting an incision location that is discreet and indiscernible to the eye. If your eyelid surgery is on the lower eyelid, an incision will be made below the lower eyelash line. For upper eyelids, it's on the natural ridges of the upper eyelid.
Once the incision is made, Dr. Hamrah will perform the necessary techniques to best meet your surgery goals.
What can I expect while recovering?
Every patient will experience bruising and swelling in the eyelid region. All bruising should subside after a few weeks. Additional side effects include:
Irritation along the incision line
Dry eyes
While recovering from blepharoplasty, it's important to wear protective, darkly tinted sunglasses to prevent sun damage.
Initial results will be visible after a few weeks; however, it often takes close to a year for the eyelid contours to become fully defined.
If you live in the Washington, D.C. or northern Virginia areas and are considering blepharoplasty, please contact facial cosmetic surgeon Dr. Hamrah today to schedule your personal consultation. Eyelid surgery just may be the solution you have been looking for.