Chin Implant Augmentation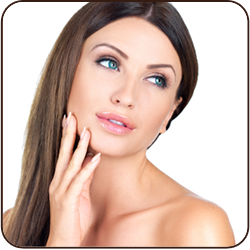 Facial implants are intended for augmentative and reconstructive purposes. Chin, jaw, and cheek implants add or restore contour and/or proportion to the face.
Candidacy for Facial Implants
Only a consultation with Dr. Hamrah can determine your candidacy. It's important to have realistic expectations and understand that facial implants will not make you look like someone else.
During your consultation, Dr. Hamrah and you will discuss your goals, expectations, overview your physical and mental health, and determine if facial implants are the optimal procedure for you. In some cases, patients enter Dr. Hamrah's office with a closed mindset of what cosmetic procedure they want, only to learn that a forehead lift or a face lift will best meet their aesthetic goals.
Placement of Facial Implants
There are three locations where a facial implant can be placed without leaving a visible scar:
Lower jaw – This implant is placed inside the lower lip. Dissolvable sutures secure the implant and the procedure takes approximately one to two hours.
Cheek – An incision is made in the patient's lower eyelid or inside the mouth. Sutures are dependent upon the situation and the procedure takes an hour
Chin – A chin implant is placed to the lower lip or under the chin. Similar to a cheek implant, suture use varies with the situation. The procedure takes no more than an hour.
Generally, facial implants are placed with only local anesthesia; occasionally, general anesthesia or IV sedation is required.
Recovery
Compared to other facial cosmetic surgery procedures, recovering from a facial implant is a fast process. Outside of rare cases, most patients return to work after three to four days.
You should have your home prepared for your return by having a recovery area with the following items:
Bags of ice to reduce pain and swelling, which will occur for two to three days following the surgery
Soft foods, such as jell-o, ice cream, and protein shakes
Plenty of clean gauze
Mouthwash, as tooth brushing is restricted following certain facial implant procedures
If you live in the Washington, D.C. or Northern Virginia areas and are considering facial implants, please contact Dr. Hamrah today to schedule your personal consultation. A facial implant may be what you are looking for