Nose Surgery McLean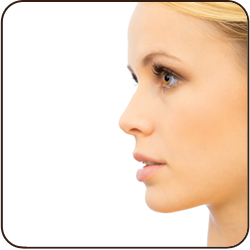 "Dr. Hamrah, just wanted to express our appreciation for the outstanding work that you did on my nose. I am very fortunate to find such a wonderful and talented surgeon to perform the surgery. Thank you so much for all that you did to make this a pleasant experience. You certainly come highly recommended in my book."
(by A.E.)
Few are blessed with the perfect nose. Even those comfortable with the appearance of their may have suffered facial trauma resulting in nose deformities.
If you experience self-consciousness due to your nose shape, Dr. Daria Hamrah can reshape your nose to complement and balance your existing facial features through rhinoplasty, commonly referred to a "nose job."
What Rhinoplasty Can Do
Through aesthetic improvements to your nose, rhinoplasty will undoubtedly provide a boost in self-esteem and self-confidence; being self-assured is considered very attractive to many people.
Nose repairs that Dr. Hamrah can provide include:
Decreasing or increasing nose size
Adjusting nostril shape
Altering the nose bridge
Reshaping the nose tip
Straightening the nose
Some improvement of breathing problems
Candidates for Rhinoplasty
In order to have nose surgery, a potential patient must have a fully developed nasal bone. For girls, this typically occurs around age 15, while a male's nose shape is matured at 17.
When considering rhinoplasty, it is essential to have realistic expectations for what the final result will look like. Prior to surgery, Dr. Hamrah consults with his patients to discuss their goals and align expectations with reality.
Reasons for Rhinoplasty
Risks of Rhinoplasty
Like any facial cosmetic surgery, rhinoplasty carries its weight of risks. Unique risks of nasal surgery are:
Small scars on the nose's underside
Burst blood vessels that can result in red spots
Future surgical procedures to address misaligned tissue
Preparing For Nose Surgery
Prior to rhinoplasty, it is important to fill your prescribed pain medication, as the pain will be significant once the local anesthesia wears off. Transportation to and from the procedure must be arranged, as well.
Mentally, you should be prepared for the recovery process, during which you will experience swelling, bleeding, bruising, and the stress of waiting to unveil and see the results.
Rhinoplasty Procedure
The rhinoplasty procedure involves an incision being made on the inside of the nose to expose the cartilage and bone beneath the skin. Dr. Hamrah then delicately re-shapes the cartilage and bone to form the desired shape.
During a "closed rhinoplasty,"  or "preseration rhinoplasty", Dr. Hamrah will make several incisions inside the nostrils, without getting outside the nose. In the "open" rhinoplasty technique, Dr. Hamrah makes an additional incision on the columella (the area outside the nose between the nostrils) and incisions inside the nose. Then the nasal skin is lifted back in order to work on the cartilage and other tissues inside the nose. The open technique is typically reserved for the more complicated cases.
Once reshaping is complete, the skin is re-draped over the surface, stitched back together and bandaging applied. The total procedure typically takes no more than two hours.
When choosing a surgeon for rhinoplasty, it is essential that you do your research on their qualifications, view past and present photos of actual patients, and agree with their cosmetic surgery philosophy.
Dr. Hamrah's belief is that cosmetic surgery must be approached from the inside out. His philosophy is that cosmetic surgery is like making up a bed nicely: if the mattress is lumpy, there isn't much point in spreading a beautiful bedcover over it. As such, he considers the bone structure, visible sagging, asymmetry, and wrinkles.
To learn more about rhinoplasty, please visit our Rhinoplasty Questions page.
If you are considering rhinoplasty and live in the Washington, D.C. and Northern Virginia area, please contact Dr. Hamrah today to schedule your personal consultation.