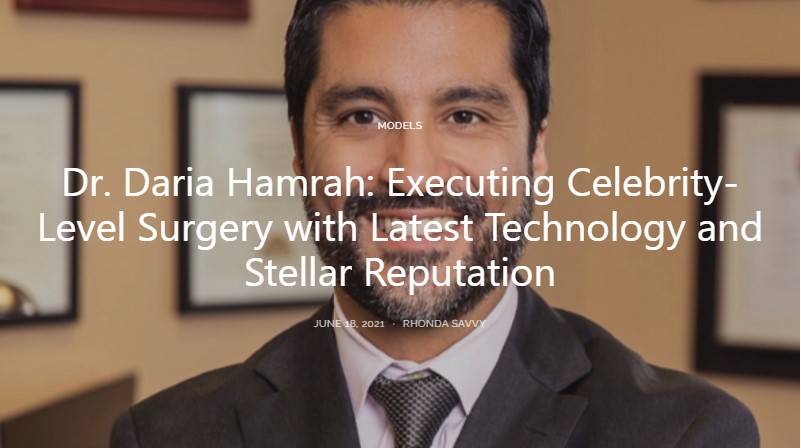 Today, many people endure significant concerns regarding their looks and features, to the point that they lose confidence and self-worth. This dread stems primarily from unrealized, or even valid, fears of being judged and insecure due to social norms. Dr. Daria Hamrah stands out exceptionally to help in a time when most individuals have to deal with an unpleasant fault-finding mentality.
Oral and maxillofacial or facial cosmetic surgery is what Dr. Daria Hamrah triumphs over, a Virginia-based surgeon known for his professional and actualized surgery and consultation approach. He is also a top double-board-certified doctor who has a massive presence on social media. His drive emerged primarily from his desire to assist others in achieving boosted self-esteem and regained confidence.
Dr. Daria Hamrah put patient care the utmost priority by providing quality service and health and building lasting relationships and trust. His practice stands with a vision of giving importance both to saving lives and addressing emotions. Following through with his commitment, he first ensures the condition of his candidates, physically and psychologically ready to realize realistic expectations of the outcome fully. He is constantly striving to provide the best for his patients, never holding back in offering the finest care, technology, and procedures available at present, while also aiming to educate clients on the difference between trend and reality. Above all, he values his integrity and remains steadfast as he does not tolerate nor capitalize on the hype.
With Dr. Daria Hamrah, Rhinoplasty, Face or Neck Lifts, and Face or Neck tightening is a promising procedure without sacrificing unsolicited expectations. Specifically, during the pandemic, when people get more time to reflect on themselves and spend time noticing imperfections and disliked traits, the surgeon is on the move. He is getting numerous bookings for procedures like "Hamrah Facial Slimming," cheek and neck fat removal together with non-surgical skin tightening, and face and neck lift using a new radiofrequency device.
The idea of becoming a surgeon was born out of realization. During Dr. Daria Hamrah's senior year in residency at the University of Miami, he was part of the Department of Oral and Maxillofacial Surgery reconstructive team. He was treating head and neck cancer patients. After saving an oral cancer patient, the question of improving scars stuck with Hamrah. It was at that moment when he grasped the idea of cosmetic improvements. His curiosity and skill to enhance aesthetic outcomes evolved further as he deals with facial trauma patients with multiple facial fractures and lacerations.
Having accommodated celebrities and individuals has been the most humbling experience for the surgeon. He said, "I find it to be the most flattering thing when someone trusts their face to me, and I don't take that responsibility lightly."
Following the protocols and proper hygiene at all times and especially when COVID-19 cases are rising, Dr. Daria Hamrah changed the check-in and out the process of patients. By scheduling all his patients, no overlapping schedule is ensured and, thus, closing the waiting rooms. Additionally, his team of professionals takes extra precautions by wearing masks despite being vaccinated.
With training and years of experience, Dr. Daria Hamrah hopes to make everyone understand how we are all different with features that can be improved. This also means varying treatments based on the condition that best suits the needs of clients. And with the pandemic opening doors for breakthrough technologies to prove themselves as a more efficient way of communication, he also carries the responsibility of helping people get similar features of the icons they look up to. Often, Bella Hadid, Megan Fox, Angelina Jolie, Kylie Jenner, and Khloe Kardashian's trademarks are attainable with Dr. Hamrah's capabilities.
In everything he does, Dr. Daria Hamrah commits to his view of providing the best and highly professional care to patients, continuously increasing his skills and knowledge for the best treatment to anyone trusting him with the process.
To learn more about Dr. Daria Hamrah, visit his website.

For all media inquiries, please contact our Public Relations department at [email protected].